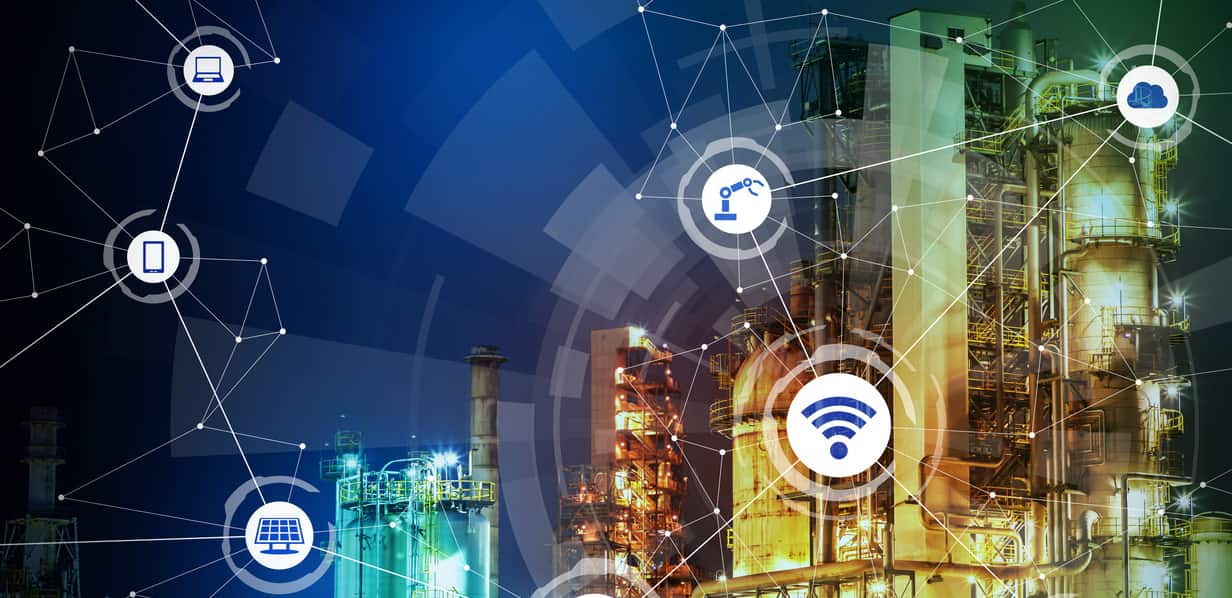 Importance of AI-enabled Wi-Fi in the Manufacturing and Warehousing industry.
The manufacturing sector contributes about 16% of revenue to the global GDP. The extensive scale of operation makes this sector one of the largest and important sectors of the world. Which is the reason why governments across various countries encourage this industry.
Research conducted by BBC publishing says: the global market for manufacturing and process control is expected to grow from $86.7 billion in 2020 to $117.7 billion by 2025. 
The manufacturing sector has a vast scope of its functions. We tend to think of manufacturing as a process of converting raw materials into a finished good. But, a huge number of operations are carried to convert the raw material into a finished product. Those processes include procurement of raw materials, logistics, supply chain management, warehousing, labor, machines, reverse logistics (if necessary), and many more processes. Each process is dependent upon the previous one, if there is a delay in one of the processes, the entire chain of operation is delayed. 
Technology is not an exception to the manufacturing industry as well. The 4th industrial revolution is around the corner, waiting to revolutionize every function of the manufacturing industry. With the integration of Artificial Intelligence, Machine learning, IoT, and data analytics, many processes will be automated. The intervention of IoT will enable the inter-machine flow of information, eventually reducing human involvement

IIoT (Industrial Internet of Things)
IoT is the interconnection of various consumer devices among each other for the transfer of information through the internet as well as carry out their functions. On the other hand, IIoT is the connection of all the machines and devices networked together with the industrial application for data transfer. IIoT is about getting every single piece of information whenever necessary. Digital transformation is the digitization of a business, uniform flow of information and assembly of work is created using ISA95 (International Society of Automation). ISA95 are automation standards to develop an automated interface between enterprise and control systems. 
It's difficult to get real-time data with traditional methods of manufacturing. Making decisions based on yesterday's data won't be efficient enough. IIoT provides real-time data to the organization, easing decision-making for the organization. 
Technologies used for IIoT
The functioning of these devices is completely dependent upon a reliable Wi-Fi connection, without consistent Wi-Fi, these technologies won't function to their fullest. While there are many forms of technology involved in IIoT, the key technology primarily consist of the following:
Artificial Intelligence & Machine learning- AI & ML are a part of computer science. Artificial Intelligence is software that is embedded in machines. This software makes the machines capable to respond and take actions like humans. Machine learning is a part of AI prediction. It records patterns of the machine through experiences and provides improvements in the flow of work without programming.
Cloud computing- Cloud computing uses web storage services to store all the data involved in the manufacturing process. It provides a higher level of convenience to access information anytime and anywhere, removing the barrier of carrying physical storage devices.
Cyber Security- The connection of all the devices to the internet makes them vulnerable to cyber-attacks. Cyber attacks can steal information and can disrupt the flow of work. These attacks can cause massive financial and data loss. Cybersecurity uses a combination of hardware and software to create a firewall that protects the network from unauthorized access from external networks.
Edge computing- Edge computing is the advanced version of cloud computing. A massive amount of data on the cloud may increase internet consumption and latency while accessing data. To save resources and time, a device is installed near the machine for storage and extraction of information in the quickest time possible.
Data mining- Data mining uses data stored in various parts of the enterprise to derive trends, prescribe changes required, and predict the future outcome. This helps the organizations identify faults in the manufacturing process and get into notice a forecast of future demand.
IoT in warehousing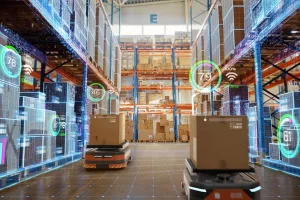 All of us would be familiar with videos showing how a small mistake by forklift drivers can collapse an entire warehouse like a domino, giving catastrophic financial loss to the company. Various IoT devices can help in managing warehouse functions effectively, at the same time avoid losses.  Here are the various IoT devices in the warehousing sector:
Robotic sensors in the front part of the forklift can detect obstacles in between and decelerate the forklift automatically.

RFID (Radio Frequency Identification) tags are attached to the products. Detection of products in the warehouse will be easier, therefore giving a scope of improvement in placing them effectively.

 IoT devices also come in wearable forms that can track the route of laborers. This information can be useful in creating an efficient movement path for the workers.
Manufacturing and warehousing go hand in hand. Manufacturing units maintain their inventories in warehouses to avoid delays in production and delivery. These advancements arouse because of the various damages faced in warehouses. Once these devices start to get mainstream, it's going to change the entire process of how warehouses function.
Importance of AI-enabled Wi-Fi in manufacturing and warehousing.
The emergence of new technologies comes with the foundation of automation, which is leading us into the next industrial revolution. All of the automation is based upon network connectivity. A reliable and automated Wi-Fi becomes the backbone of all of these processes. All the recording and tracking will be based upon a Wi-Fi connection, disruption in Wi-Fi connection will be disruption in the functioning of these sectors.
There is no doubt that the new industrial revolution will bring convenience at clicks and touches. But, if companies have to deal with Wi-Fi downtime and struggle to get a consistent connection, all the time, money, and efforts put in to change the architect of the processes will not give the desired output. Here are some of the benefits of Ai-enabled Wi-Fi:
Automated problem recognition and diagnosis

Real-time Wi-Fi insights 

Maximum uptime

Secured connection
Switching from manual to automated functioning is an expensive move. If a smart Wi-Fi is not supporting these processes, it will become more expensive and the cost will keep increasing to keep the Wi-Fi stable and consistent. 
A recent IDC report predicts IoT devices could reach a count of 75 Billion by the year 2025. IoT has already started to become mainstream in personal and commercial usage. The connection of billions of devices among each other and to the central network will bring a massive load upon traditional Wi-Fi if it is not replaced with a smart Wi-Fi. 
Check out our recent blog on the Importance of Ai-enabled Wi-Fi in Healthcare Industry. Keep reading this space to discover the latest trends in Wi-Fi technology and how you can implement it to upgrade your house and business. To know more about the Aprecomm Virtual Wireless Expert and Artificial Intelligence solutions log on to https://aprecomm.ai or email us at info@aprecomm.ai